Well, based on our "
Where quality resources matter. (Dead Horse)
" thread on the OF, and upon some of the side notes there, here's an upgraded list of the quality resources, that DEs need to be able to craft all of the items capped:
Some side notes (some from the OF discussions):
1. "
One thing to note, when the schem calls for "chemical" you are better off using a lubricating oil with high OQ -- it doesn't have the other attributes and will yield a better result.
" - Onyx - (thank You Onyx for the note).
2. Instead of my former misleading/confusing nomenclature (e.g. "2nd class" resource) I used colours, and the resource tree. The resource-types in
Bold and Underlined
are the needed resource-types, and their background colors show the needed stat-combos.
3. Based on Miravlix's comments, the list is updated with a few items, these are: the droid- and vehicle customization kits ('cause of their charges), and the craftable vehicles (seeing, how every Players want their Adv. STAPs and AV-21s to be crafted at 100%, I don't believe, that we could say longer, that quality doesn't matter...). On the other hand, neither myself like to craft these vehicles below 100% quality. (thank You for the notes, Miravlix.)
So with these changes, the Shopping/Mining list above is based on these items and resource stats:

Sadly the Photobucket resized the 2nd chart to an almost unusable size, so I put up the charts in a two in one form, like this: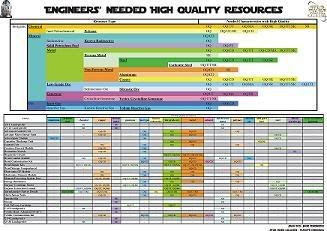 - it can be checked and/or downloaded
here
as a .jpg file (approximately 2,5 Mb -
ENGINEER
ed for an A3 printed size).
Please, feel free to correct me, if You find any mistake on the charts.
Sincerely,
Sakh